I don't really post here much :\
This really has nothing to do with Ryan Dunn...
But if you like Ryan Dunn, you GOTTA like CKY!
So mods, if you feel the urge to delete this, go ahead.
I understand.
I saw CKY on Wednesday, the 24th for my second time.
& they kicked complete ass.

They toured with The Knives & Fireball Ministry.
I got to meet the lead singer, Le'Von from The Knives.
& I met the bassist, Scott.
Le'Von is such a dear!
He's quite gorgeous also, :)


They're not the absolute BEST pictures ever.
But they're pretty good :)
It was hard to take them with 35463 people moshing, pushing & kicking you, lol.



The stage.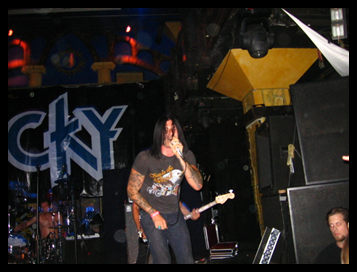 Le'Von of The Knives.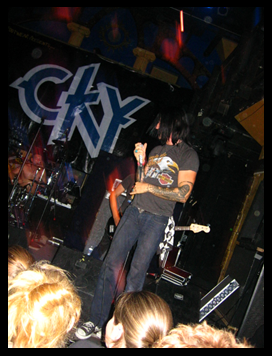 Le'Von of The Knives, again.



Fireball Ministry.



Fireball Ministry, again.



Again, Fireball Ministry!



CHAD FUCKING GINSBERG <3



DERON FUCKING MILLER <3



CKY.



CKY; turned out a bit blurry :(



CKYYY.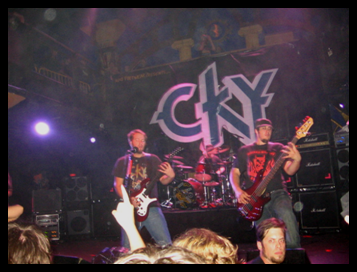 CKY :)

Unfortunately, Deron was covering up Jess the whole time.
& I didn't get any shots of Jess playing :(
During the set, Chad said, after a song..
"THIS ONE GOES OUT TO GG FUCKING ALLIN. NOBODY KNOWS GG FUCKING ALLIN!"
I could not stop laughing.
Yeah, because you know where he's drunk as shit in the CKY movies...
& he goes to his grave & such...
& is like "NOBODY KNOWS GG FUCKING ALLIN! I'LL KILL 'EM!"
If you have seen it, you'll get it.
It was quite funny :)


Oh yes, & I got this T-Shirt :)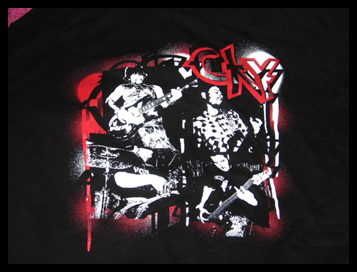 FRONT.



BACK.

On the way to the concert, my friend & I got into a car accident.
The fucker drove off & we didn't get a license plate number :(
I feel bad for her, cause she has to pay the whole thing on her own now..



It's worse in person, because it's all dented in & such.

My lovely autograph from Le'Von & Scott of The Knives <3



Last November I saw HIM in concert, which may I add, rocked.
I saw a security guard there, & I was like..
"OH MY FUCKING GOD, IT LOOKS LIKE DERON MILLER & RYAN YOHN IF THEY HAD KIDS", lol.
& I saw him at the CKY concert too!!!
I got a picture of him...
So here you go...


Am I right?